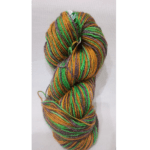 Oswal Micro Rangoli
₹50.00 inc. of all taxes
Composition: 100% Acrylic
Approx Hank weight: 50-55 gm
Hook / Needle Size: 8, 9, 10, 11
Ply: 3
Length: 140 (in mtr)

We Deliver Happiness😊 Love Knitt Repeat
Disclaimer: Original Colour may vary with the picture because of the camera.
• Shipping all over India
• Orders shipped within 3-4 days
Description
Oswal Rangoli 3 Ply Multi Colour 100% acrylic yarn is fantastic for baby projects, but also comes in colors that are great for adults too. With breathtaking color blends, it's easy to see why it has captured the love of knitters and crocheters! It creates a light flexible fabric that works well with lace stitches and can be worked using a 3mm to 3.5 mm hook/needle.
Recommended needle size:
mm: 3 mm – 4 mm
UK Size: 8, 9, 10, 11
US Size:  2.5, 3, 4, 5
Oswal Woollen Mills Limited (OWM), is the parent company of the Nahar Group of Companies which own woolen wear brand Monte Carlo and is one of the biggest producers of yarn in India.
Note: Hobby Store products are non-returnable