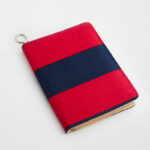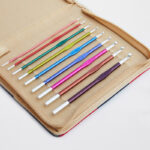 KNIT PRO ZING SINGLE ENDED CROCHET SET
inc. of all taxes
Crochet Size: 2.0, 2.5, 3.0, 3.5, 4.0, 4.5, 5.0, 5.5 & 6.0mm.
Set of 9 sizes of Single Ended Zing Crochet Hooks packed in a red & blue fabric case.
• We Deliver Happiness😊 Love Knitt Repeat
• Shipping all over India
• Orders shipped within 3-4 days
Only 2 left in stock
Description
Nine single ended aluminium crochet hooks, colour coded by size and packaged in an attractive fabric case.
Shiny Silver tips for ease of crocheting with any colour. Perfectly shaped hooks to crochet easily. Warm to touch and exceptionally gentle in hand.
Packaging:
Set of 9 sizes of Single Ended Zing Crochet Hooks packed in a red & blue fabric case