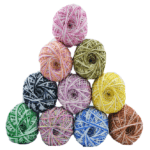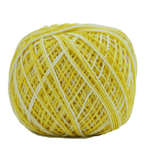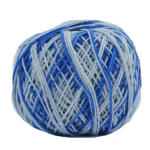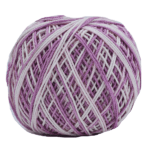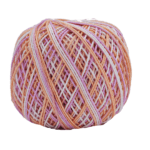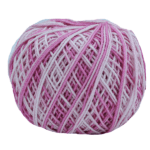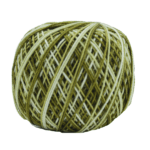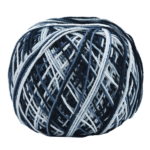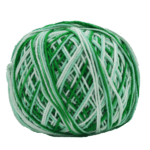 कpaas Variegated Mercerised Cotton Yarn
inc. of all taxes
Composition: 100% Cotton
Ticket / Ply : 3 ply
Approx Ball weight: 50 gm
Hook / Needle No: 10, 9, 8
Approx Length: 165 (in mtr)

We Deliver Happiness😊 Love Knitt Repeat
Disclaimer: Original Colour may vary with the picture because of the camera.
• Shipping all over India
• Orders shipped within 3-4 days
Description
कpaas Variegated yarn is 3 ply yarn, crafted from high quality cotton that is carefully mercerized and caringly dyed to retain the cool nature of cotton fibre.
What is Mercerization?
Mercerization is a way of treating cotton that makes it stronger and more receptive to dye. After the process you have a smooth, luminous yarn that is easy to care for.
Where did it Originate?
Like many inventions, the term "mercerized" was derived from the name of the person who created it. In 1844 John Mercer (see the connection?) experimented with using sodium hydroxide to treat cotton. The chemical caused the fiber to swell and compact thus increasing its tensile strength. However, it also resulted in fibers shrinking by as much as 25% percent.
Improving Upon a Concept
While the idea behind mercerization was good, the shrinkage of fibers was not ideal. In the 1890s H.A. Lowe improved upon Mercer's idea. He discovered that holding the fibers under tension during the process reduced shrinking and also created a lustrous sheen.
What is the Mercerization Process?
Mercerization can be done on any cellulose fiber (i.e. cotton, hemp, linen) in fabric or yarn form. To mercerize fiber it is submerged in sodium hydroxide (NaOH), also known as caustic soda or lye. This is done in repeated bursts of four minutes or less. While immersed in the solution the fiber is kept under tension (the improvement developed by H.A. Lowe) to prevent shrinkage. An acidic bath is used to neutralize the alkali treatments.
Any cotton fiber can be mercerized, however, long-staple varieties respond best.
Mercerized Cotton or Not?
Neither type of cotton is hands down better than the other. Mercerized cotton will be shinier and stronger than non-mercerized varieties. Dye takes to mercerized cotton easier and thus produces richer tones. Somewhat contradictory to that, non-mercerized yarn will be more absorbent making it a better choice for items like washcloths.
Part of mercerized cotton being stronger means it sacrifices softness. If you are making something where strength of the fabric or structure is important than mercerized cotton will be a better option. An item that relies on softness and drape is better suited for a non-mercerized cotton. However, mercerized cotton will soften with washing and wear and is still useable for garments.
What Mercerised cotton can be used for?
Mercerised Cotton can be used for variety of projects like Apparels, Home Décor items, Amigurumi, Children Clothes, Bags, Toys etc.