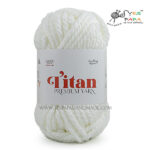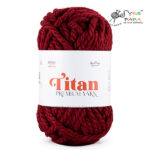 TITAN PREMIUM CHUNKY YARN BY GANGA
₹220.00 inc. of all taxes
We Deliver Happiness😊 Love Knitt Repeat
Disclaimer: Original Colour may vary with the picture because of the camera.
• Shipping all over India
• Orders shipped within 3-4 days
Description
TITAN PREMIUM CHUNKY YARN
Titan is super chunky yarn with big clear grains. It is 100% Acrylic yarn which is ideal for making blankets, winter caps and snood, oversize sweaters, etc.
Titan is OEKOTEX CLASS l CERTIFIED
Ball weight in grams: 200gms
Count:  Nm 0.7/3
Blend: 100% Acrylic
Needle Size: UK 0 (15mm)
Crochet Size: UK 0 (15mm)
Needle Stitch Info: 7 Rows 5 Stiches
Crochet Stitch Info: 6 Rows 5 Stiches
Yarn Weight: 6 Super Bulky
Experience Expertise and Innovation are the words that describe Ganga Acrowools Limited. Our Legacy of 60 years of Yarn manufacturing, takes us back to our roots: Hand Knitting yarns is the way it all started, we have been engaged in worsted yarn manufacturing for 6 decades, and are now the No.1 exporter of Hand Knitting yarns from India supplying over to more than 30 countries worldwide.
Note: Hobby Store products are non-returnable