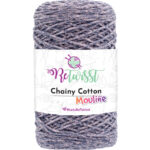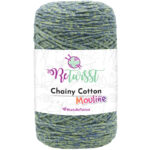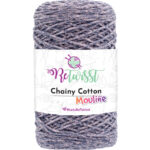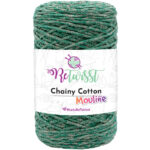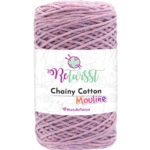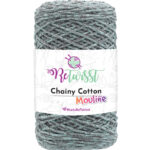 RETWISST CHAINY COTTON MOULINE YARN
inc. of all taxes
COMPOSITION: 80% COTTON, 20% RECYCLED FIBRES

YARN LENGTH: 250MTR (273yd)

YARN WEIGHT: 250 GRAMS

CROCHET HOOK SIZE: 2-4MM

KNITTING NEEDLE SIZE: 2-4 MM

ALL WEATHER YARN.
The transition yarn.
Best Yarn for Bags.
You can crochet very stylish clothing pieces for yourself or for your friends.
Disclaimer: Original Colour may vary with the picture because of the camera.
• Shipping all over India
• Orders shipped within 3-4 days
"RETWISST YARNS EXCLUSIVELY AVAILABLE IN INDIA WITH YESPAPAHANDMADE"
Description
CHAINY COTTON MOULINE
Retwisst Recycled Chainy Cotton Mouline 250gr yarn is a lightweight craft yarn which is made of new recycled fibres. It is very easy to knit and crochet your projects such as home accessories fashion garments amigurumies etc. Each roll has a weight of 250g and a length of 250m. It is enough to crochet or knit a surface of 70×70 cm squared.
"EXCLUSIVELY AVAILABLE IN INDIA WITH YESPAPAHANDMADE"
Additional information
| | |
| --- | --- |
| Weight | 250 g |
| Pattern | RCCM7101, RCCM7102, RCCM7103, RCCM7104, RCCM7105, RCCM7106, RCCM7107, RCCM7108, RCCM7109, RCCM7110, RCCM7111, RCCM7112, RCCM7113, RCCM7114, RCCM7115, RCCM7116, RCCM7117, RCCM7118, RCCM7119, RCCM7120 |