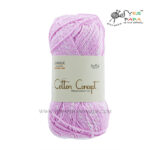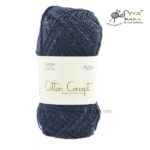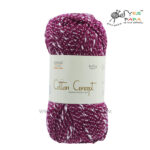 GANGA COTTON CONCEPT YARN
₹120.00 inc. of all taxes
Ball Weight: 100gms
Count: 1.90 Nm
Blend: 25% Cotton 75% Acrylic
Needle Size: UK 11(3.5mm)
Crochet Size: UK 10(3.5mm)

We Deliver Happiness😊 Love Knitt Repeat
Disclaimer: Original Colour may vary with the picture because of the camera.
• Shipping all over India
• Orders shipped within 3-4 days
Description
GANGA COTTON CONCEPT YARN – Cotton Concept is fingering weight yarn and is ideal for both knitting and crocheting.
OKEO-TEX Certified.
Ball weight in grams: 100
Count: Nm 1.90
Blend: 25% Cotton 75% Acrylic
Needle Size: UK 11(3.5mm)
Crochet Size: UK 10(3.5mm).
Ideal for making Female Dresses, Poncho, Scarf, Bag, Female Earings, Frok, Accessories etc.
Experience Expertise and Innovation are the words that describe Ganga Acrowools Limited. Our Legacy of 60 years of Yarn manufacturing, takes us back to our roots: Hand Knitting yarns is the way it all started, we have been engaged in worsted yarn manufacturing for 6 decades, and are now the No.1 exporter of Hand Knitting yarns from India supplying over to more than 30 countries worldwide.
Note: Hobby Store products are non-returnable
Additional information
| | |
| --- | --- |
| Weight | 100 g |
| Pattern | GCC01, GCC02, GCC03, GCC04, GCC05, GCC06, GCC07, GCC08, GCC09, GCC10, GCC11 |